Micro Filter King cooking oil filter machines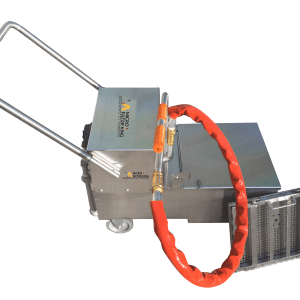 Are you looking for a cooking oil filter machine? Look no further! Our cooking oil filtration systems are designed to save time and money while providing the highest level of safety and convenience. With our cooking oil filters, you can quickly and easily remove impurities from your cooking oil, ensuring that every meal is cooked with the freshest, cleanest oil available. Our filters are built for long-term use, with a durable construction and easy-to-use operation. We guarantee that our cooking oil filter machines will help your kitchen run more efficiently, saving you time and money in the long run. So don't wait—contact us today to find out more about how our cooking oil filtration systems can make your kitchen work smarter. Let us help you make the best decision for your business, and start cooking with cleaner, safer oil. Thank you for choosing our cooking oil filter machines!
The team at Micro Filter King hopes that you have an enjoyable and productive experience with our cooking oil filter machines. We are dedicated to providing the best service possible, and we thank you for your interest in our products. If you have any questions or need assistance, please don't hesitate to contact us. We look forward to serving you soon! Thanks again for choosing Micro Filter King cooking oil filter machines!
Oil Filter Machine Manufacturers & Experts
At Micro Filter King, we specialize in providing custom-made cooking oil filtration machines to help our clients when it comes to improving their restaurant business. A microscopic cooking oil filtration machine will help to extend the life of your cooking oil by 50 percent or more, whilst providing a higher quality of fried food for your guests. Considered the Bentley of the industry, our microscopic cooking oil filter is made of stainless steel in the US and includes a 10-year warranty. Feel free to learn more about our oil filter machines and how they can help you optimize your restaurant.
Key Features Of Micro Filter King
Heavy-duty, 1/3 HP Haight/Leeson Motor, high heat rated motor for up to 350 degrees for hot oil filtration.
Two-speed pump 5 gals per minute flow, for fast and deep oil filtration to as low as 10 microns using a double filter system.
Forced and double sealed filtration system, forcing every drop of oil to pass through a microscopic filter.
Filter #1: Stainless steel 300-micron screen basket.
Filter #2: "Forced & double sealed Micro-filter rack" and micro pads that filter down to as low as 10 microns, removing microscopic impurities that degrade the oil.
Total weight of unit: 90 lbs. on 4 wheels, front swivel.
Machine dimensions: 13″ front height x 24″ back height x 17″ wide x 30″ long.
Two speeds; Forward and Reverse pumping option.
Collapsible handle for easy storage.
Stainless Steel 304 food-grade construction all around, inside and out for easy cleaning and long-lasting.
Anti-spill locking lid for transporting hot oil to the dumpster.
Four wheels for easy mobility and collapsing handle for tight storage.
Heat insulated hose up to 500 F degrees for easy handling so it never burns you.
Portable 16-gallon tank (120 lbs.) to hold oil from big fryers.
Filters and cleans an average 35lb fryer in 4 minutes & 85lb fryers in 6 minutes.
Multiple Warranty Options to choose from (Up to 5 Year Limited Warranty)
Leasing is available to qualified buyers in the USA with 2 years in business and good credit.
Benefits Of Micro Filter King
CUT COOKING OIL COST BY 50% or MORE… By polishing and filtering the oil to a microscopic level!
SAVE LABOR IN FILTERING YOUR OIL… You will be able to filter in 4 minutes per fryer & save hours in labor.
SAFELY TRANSPORTS your used hot cooking oil to the grease dumpster! (No more slips & burns)